Bathroom Remodeling Tips– Taking on a new bathroom remodeling project or another that you find suitable? You must be raring to start pinning those inspiration photos, working through stacks of design catalogs, and jotting down all sorts of niceties you wish to include. By revamping your bathroom, you can not only add value to your home and boost the aesthetics and functionality but also create a space for enjoyment and relaxation. Here are some must-know bathroom remodeling tips.
1. Create a Budget
At some point, that word "budget" will start to rear its ugly head from behind your dream of a new high-end countertop. This is when you need to remind yourself that you are not only making an investment into your property but also yourself. You have the chance to transform a segment of your home into the exact style you love and want. Home and bathroom remodeling can lighten your wallet for as much as you let it. Without a solid budget, your expenses can spiral. The solution? Try researching local custom-building costs, setting a realistic budget, and then trying to stick to it. Choosing to hire a remodeling contractor or a design-build firm where you can get fixed pricing instead of estimates can soft-pedal the situation.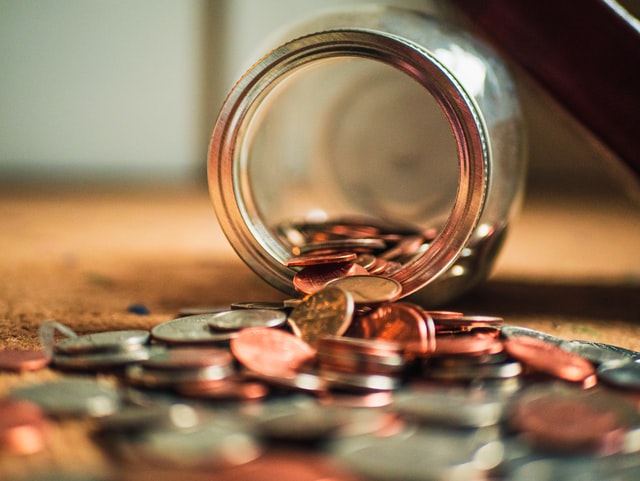 Another key aspect of establishing a budget is determining where your capital is going to come from. For small renovations, most folks will opt to use money from their own savings. For larger, more expensive projects, using borrowed money often makes the most sense.
Plus, you can compare personal loan rates and credit card offers online, as well as pay it back over time. That can make a whole lot of logical sense, especially since Installation and materials take the most significant chunk out of your budget. But you should anticipate spreading your budget across the following categories as well:
Cabinetry and hardware (16%)
Fixtures (15%)
Faucets and plumbing (14%)
Flooring (9%)
Countertops (7%)
Lighting and ventilation (5%)
Walls and ceilings (5%)
Design fees (4%)
Doors and windows (4%)
Miscellaneous (1%)
Always make sure to have a little extra because unforeseen problems can quickly drive up the cost.
Are you looking to sell your property within a few years?
If you are, experts recommend that you remodel your home within your own use, rather than resale value, in mind. This is because you will only recoup part of your investment after you've sold your home. Of course, if you're trying to keep your home's resale value in mind, your choices of design and material should have a broad appeal instead of exhibiting your personal taste.
If you only plan to stay a couple of years before selling it, think twice about taking on any major remodeling projects. On the other hand, if you plan to stay there long enough to actually enjoy your new space, it very well makes sense to invest.
2. Plot the layout
Choose the type of your bathroom
While it's less likely that you will change the type of your bathroom, it is a good idea to give every option out there a thought before you set your ideas in stone. You may recognize the room has much greater potential or that minor alterations can help turn a tiny cramped half bath into a luxurious master en-suite.
A standard bathroom or full bath contains a toilet, sink, and a shower, bath, or both. Adding a master suite that can be accessed from a master bedroom frees up the existing standard bath for the family members to use. This is especially useful if they don't fall into a camp of get-in-and-get-out shower-takers. Homeowners choose to load their master suite with amenities, such as a soaking tub, skylights, separate steam shower, to achieve that luxurious spa-like vibe.
A half bath, or powder room, has only a sink, a toilet, and a mirror. It both requires a small footprint and improves your life significantly. It boosts the value of your home and makes your life dramatically easier. For starters, when you have guests coming over, they don't have to use your personal bathroom space. Secondly, adding a powder room makes for efficient use of space, as they don't require a big footprint. Thirdly, it reduces the people-to-bathroom ratio, which is particularly useful during those busy mornings.
The wet bathroom is becoming increasingly popular among homeowners who aim for that sleek and stylish look. The most common installation is a shower, where a glass screen is used as a divider between the shower area and the rest of the bathroom. This can definitely add that "wow" factor to your home. Still, aesthetics is not the only reason why homeowners love this approach to bathroom design. In fact, these are eminently practical: they're fully waterproofed, easily accessible, and easy to maintain.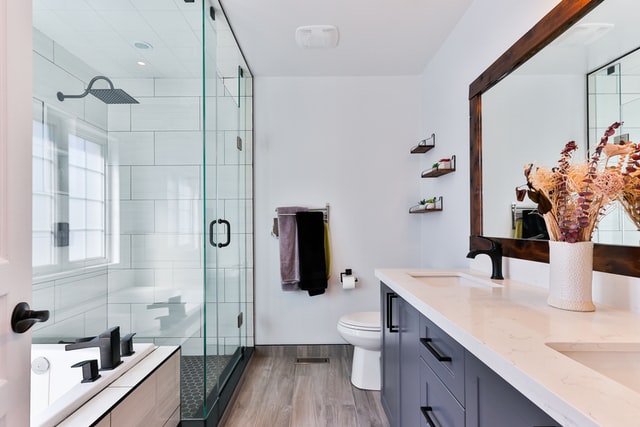 Develop a layout
Expert's advice on remodeling your bathroom is to keep the existing layout if you like the current general position of the elements, and it all simply works. Still, there are several reasons why you would consider changing your layout. Poor designs, lack of space, impractical arrangement – all of this can get you itching to tear it all down and fast. In general, start by scanning the layout of your current bathroom, and note down what areas you want to change/keep when renovating the bathroom. Ask questions like:
What doesn't work, and what is absolutely necessary to change?
What is it that I want from the space?
Who is going to be using the bathroom?
Do I need to add more storage?
What can I afford with my budget?
Is it better to seek professional assistance for my bathroom renovation?
A skilled interior designer can help you either explore possibilities and opportunities for customization if you are working with more space or make the best use of a small space. Wall-mounted basins, toilets, and units are a good idea because they open up the floor space, and the room instantly appears larger than it is. Still, any reinforcement work you may need for wall-hung sanitaryware could further impact your budget.
3. Get the lighting right
The bathroom is a high-traffic area. It's the first place we tend to visit in the morning and one of the last stops before bed. Increasing natural light in the area opens so much potential, and transitioning from a place of constant bustle to a peaceful sanctuary is then made easy. On the other hand, poor bathroom lighting is something you'll notice almost instantly when you see it; plus, it can hurt the aesthetics and utility of the space.
Natural lighting. Allow ample natural light into your bathroom, and see everything about it changes. The space instantly feels a lot brighter and airier. If possible, consider incorporating plenty of windows. A bathroom with a skylight, however, goes well beyond opening a window.
Artificial lighting. Your artificial lighting plan needs to be equally good. For starters, the sun sets every day; plus, lots of bathroom designs have no windows to begin with. A good start would be to think in terms of layers. Recessed LEDs on a dimmer switch provide great ambient light but continue layering in soft lighting at head level at the vanity. Modern vanities with built-in lighting or lighted mirrors are an excellent option for pure, broad-spectrum illumination that gives your skin a natural appearance. Also, try to avoid bare bulbs and other harsh light sources. Incorporate some mood lighting instead.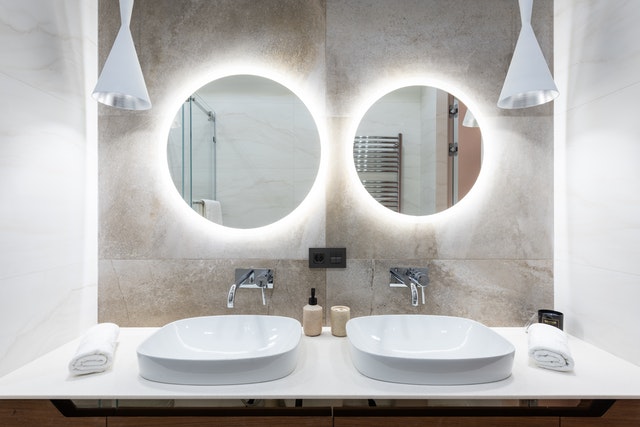 4. Allocate space for your toiletries
Incorporating more storage space is next on our list of bathroom remodeling tips. The truth is – you can scrub your heart out, but a cluttered bathroom will always feel dirty. Everyone wants to have a decluttered home. So, before you get started on your bathroom project, it helps to remove any junk and excess items that you no longer need or no longer serve the purpose. Then, think about how you would organize what's left. If you need more storage space, consider adding some built-in shelving, cabinets, and storage ladders. However, these provide not only a place to hide all of the eye-soaring clutter but also dynamics and a sleeker look to space.
5. Ventilation is not to be taken lightly
Next one for Bathroom Remodeling Tips, bathrooms are naturally susceptible to dampness. Hot showers and baths create extra airborne moisture that often results in mold and mildew buildup, make the air feel too warm and sticky, and do some expensive damage to your HVAC system and increase its energy consumption.
There are a couple of options to choose from in terms of ventilation. Windows and window vents can be a good source of ventilation. However, they can also let in pollen and traffic pollution; and it gets extra tricky during the winter months. Secondly, externally vented exhaust fans on timers can ensure that the indoor air supply stays good quality for its occupants, and the timer helps you use the fan efficiently.
6. Plumbing matters
Typically, residential drain plumbing uses 1½-inch diameter pipe, PVC plastic. These are easily clogged, especially if there is more than one family member using the same bath and/or shower. With the amount of hair and gunk going down the drain, it's no surprise. Upgrading your drainage to a 2-inch plumbing drain will dramatically improve its quality, while the cost difference is practically negligent.
7. Remodel ideas to inspire you
Here are some stylish bathroom makeover ideas that might inspire you to place this project at the top of your to-do list.
Freestanding bathtubs are the thing at the moment if you like a modern or vintage design. They are chic, elegant, and timeless – a real statement piece of the room. Moreover, they are easy to install and don't take a lot of space. However, before you commit, keep in mind that some people find them impractical.
Undermount sinks are best known for the sleek, sophisticated design that dramatically enhances the style of your bathroom or kitchen. Still, one of their biggest advantages is that there is no crevice or lip to catch dirt, so they are very easy to clean.
A steam shower is an update you won't regret. It's a fantastic way to incorporate a bit of self-care into your hectic schedules and daily routines. These can re-create the spa experience at your home, improve your circulation, help with stiffness and joint pain, remove toxins and chemicals that have accumulated in your body, et cetera. However, a word of caution – they are not suitable for people living with diabetes or heart conditions.
Select a color palette that you love and not the one you think should customarily go in a bathroom. This can result in anything – from dark walls and bright green cabinets to whimsical tile on your shower floor. Just be sure that the materials are durable and that the color scheme is the one you are willing to live with and not change when your taste changes.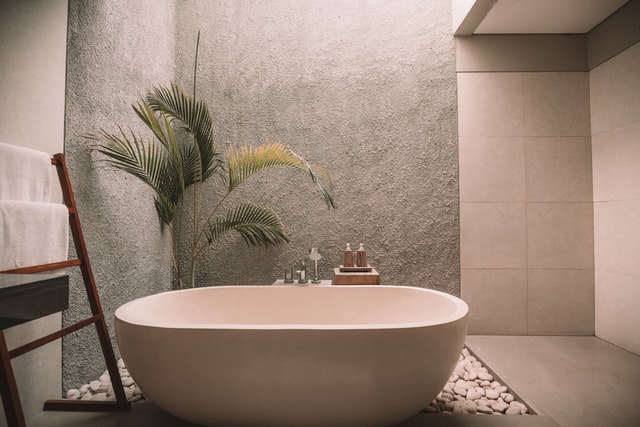 8. Replace Fixtures and Hardware
For a sleek, modern look in your bathroom, some of the best things you can do when remodeling
are to replace your fixtures, hardware, and showerheads.
Fixture come in all different shapes and sizes now, from those with sqare edges to more angular cuts. Hardware can be replaced with any number of metal finishes from brused nickel to aged brass,making for a more personalized look.
If you want to update your showerhead, consider a rainfall showerhead or hand-held showerhead, which helps conserve water. You could also choose one of the many ceiling-mounted adjustable showerheads on the market today. If it's in the budget, take the opportunity to give your bathroom a new feel with updated fixtures, hardware and a showerhead.
If you want to update your showerhead, consider a rainfall showerhead or hand-held
showerhead, which helps conserve water. You could also choose one of the many
ceiling-mounted adjustable showerheads on the market today. If it's in the budget, take
the opportunity to give your bathroom a new feel with updated fixtures, hardware, and a
showerhead.
9. Choosing Shower Tile and Flooring
Tile is a smart choice when it comes to bathrooms, as it provides easy cleanup and increased
safety in your shower or tub space
Shower tiles come in a wide range of patterns, sizes, and shapes in various materials,
including ceramic, porcelain, glass, stone, and natural stones like travertine, among
others. Mosaic tiles are an increasingly popular trend right now, as many are available in
bright colors and can be placed in different patterns to create a one-of-a-kind, trendy and
timeless look.
Popular flooring options for your bathroom include tile and laminate flooring, to name a
few. Tiles are offered in numerous sizes and shapes and can be used to create a
customized look for your bathroom flooring. If you would prefer a flooring other than
tile, consider choosing floating wood or laminate flooring, which is very easy to maintain
and comes in numerous designs and styles to match any decor. It's best not to place rugs
on laminate flooring, if it's the type of flooring you choose. However, rugs that are
specially made for bathrooms, such as coir mats, can be purchased and resist mold and
mildew. Some people opt instead to choose porcelain stoneware tile, especially those in
lighter shades, such as cotton. Porcelain stoneware tile combines the ease of installing
porcelain with the feel of natural stone, making it a reliable choice for bathroom flooring.
10. Choose Countertops
Granite is a great choice when it comes to bathroom countertops, due to its beauty and
durability. One downside, however, is that granite can be very expensive.
Quartz and engineered stone are more budget-friendly materials that are used for
countertops. These alternatives to granite have become increasingly popular in the past
few years. They're far more affordable than natural stone and are also virtually
indistinguishable.
11. Cabinetry, Vanities and Sinks
If you're looking to update your current cabinet or vanity during your bathroom remodel,
you might consider a frameless cabinet for a more light, modern look with an open feel.
You can also add under-the-sink lighting to make the most of your space. If you have a
smaller bathroom, corner cabinets are a great option as they save limited floor space.
The type of bathroom countertop you choose will determine which type of sink you
select for your renovation. Several types of sinks to choose from include vessel sinks
(which sit on top), semi-recessed basins (which are partially submerged into the counter),
or full recessed basins (where the entire sink is set into the counter).
12 . Add Special Features
Renovating your bathroom is a great time to go ahead and add any special features that you
would like or that would enhance convenience. Bathroom features such as a heated floor, towel
warmer, or a digital shower head are luxury additions you might consider adding during the
process
A heated floor offers added comfort and warmth during the colder months.
A towel warmer is perfect for ensuring that towels are warm and dry before you step out
of the shower.
A digital showerhead provides multiple settings that offer different spray modes,
including rain, massage, and mist.
Convenience features for your bathroom, such as those mentioned, can enhance your overall
bathroom experience and save you time.
13. Affordable Alternatives
While it's always nice to dream big about bathroom renovations, remember that you don't need to
break the bank to give your space a new feel. Instead of starting from scratch, consider these
options:
Update old fixtures, such as adding new faucets for basins and bathtubs, or handles for
your drawers and cabinets.
You can also use decorative floor mats instead of spending money to tile your entire
bathroom. Selecting a large, decorative floor mat will go a long way without making a
large impact on your budget.
Even if money is tight, you still have plenty of options for sprucing up your bathroom.
14. General Tips
When it comes to bathroom renovations, one of the most important things to do is choose a
trusted contractor who can help you create the space you've always wanted. Your contractor
should offer free in-home consultations and provide references from previous clients so that you
know they're trustworthy and reputable. They should also provide a detailed written estimate that
outlines everything that's included in their services, including costs and estimated completion
date. It's also wise to work with a contractor who offers renovation financing options. If your
project exceeds your initial budget, you won't have to worry about taking out another loan to
cover the difference.
Final word
Browsing ideas and photos is the fun part of creating your dream bathroom. Still, turning these designs into reality also takes thorough planning and organization. Sure, there will be some twists and turns, and hopefully, these bathroom remodeling tips can help point you in the right direction. However, if once you accept the ebb and flow of home remodeling projects, you will learn that improving the look and feel of your home is something that pays back in happiness. Hope, these Bathroom Remodeling Tips could help you thanks.